Stainless Steel Spatulas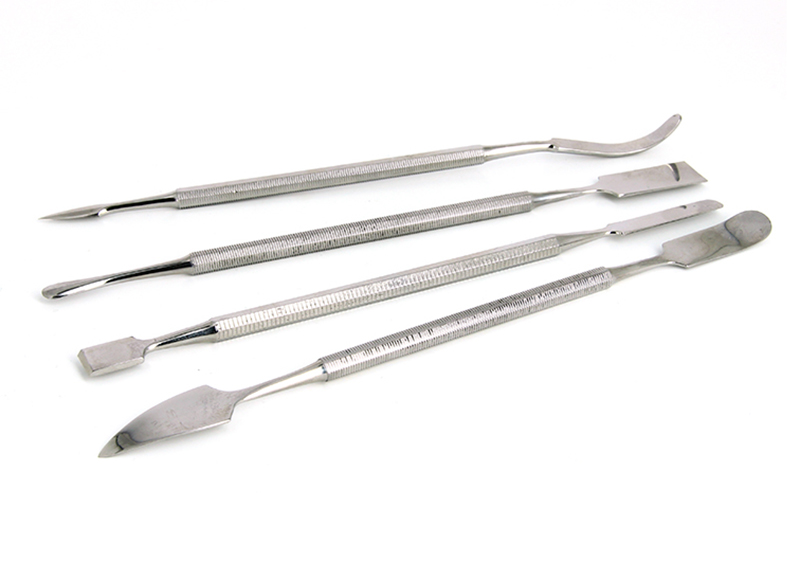 Stainless steel multi-purpose tools for Electronics Assembly / Rework and Lab applications.
Probes and Spatulas are general purpose tools for scraping, getting into small areas, use with adhesives, moving small parts etc. Ideal for circuit board repair and rework. Perfect help for checking solder joints and mechanical inspections.
Rust-free stainless steel AISI 410
Serrated handles for better grip
Multi-purpose
Spatulas length: 17 cm / 6,7 in
Available singularly or in kit of four styles
| Catalog | Style | OAL | ESD Safe | Price | Unit | |
| --- | --- | --- | --- | --- | --- | --- |
| MPTSS1 | Short pointed & long curved rounded | 180 mm | No | 5.00 | each | |
| MPTSS2 | Short rounded & large flat squared | 175 mm | No | 5.00 | each | |
| MPTSS3 | Short flat squared& long flat rounded | 165 mm | No | 5.00 | each | |
| MPTSS4 | Long curved pointed & long curved rounded | 180 mm | No | 5.00 | each | |
| K4MPTSS | Kit of 4 | - | No | 18.00 | each | |